UKTE Scottish Claymores Trip
Claymores vs. Rhein Fire - Sunday May 19th 2002
Hampden Park, Glasgow
Who are all those people in Burnt Orange???
UKTEs make their presence felt at the Claymores 17-7 win against the Fire
Deep in the Heart of Scotland, 20 UKTEs hooked up with Kwame Cavil and James Brown at the Scottish Claymores Game on May 19th. We also had the opportunity to meet up with former Texas Coach (now Claymores Head Coach) Gene Dahlquist and former player (now Claymore Defensive Coordinator) Ray Woodard

WR Kwame Cavil is swarmed by UKTE's at the after game celebration
QB James Brown and Defensive Coordinator Ray Woodard (UT D-Lineman '83) with The Crew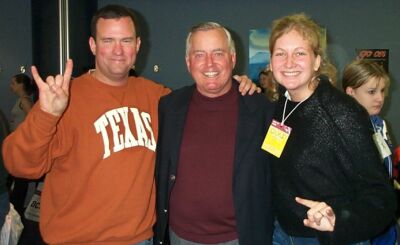 Claymores Head Coach and former UT Offensive Coordinator Gene Dalhquist stopped by between press conferences
Despite our best efforts to stand out on the crowd, we were upstaged by The Amerikilt and the Tartan CheeseHeads
UKTE or 'Big Issue' Salesman? - you make the call...
(Sorry JC, couldn't resist heh heh)
A Huge THANKS to the Claymores and all the former Texas Players & Coaches that took the time to share some time with us after the game
As the Rhein Fire headed out immediately after the game, we didn't get a chance to meet with Former 'Horns Greg Brown, Ben Adams and Aaron Humphrey, perhaps we need another trip next year to Germany to make up for it!