'Horns Week Off? No Problem!
The survivors of the infamous "Crew of 22" revisit Twickenham, England's National Rugby Stadium, on Nov. 17th to see the Home side be very, very rude hosts to their visitors from the East - to the tune of 134 - 0, ouch!!!
Traditional pre-game warm-up at O'Neils, Richmond
Last Spring, 22 UKTE's and friends saw the Rugby 'Superbowl', the Tetley's Bitter Cup, and as part of the deal, those who went got free tix to the Romania 'game'
The return of Charleenavision from the Pub Crawl? Nah, just Rugby hooligans roaming the streets
Coach vs. Business Class, they'll let about anyone ride in the back...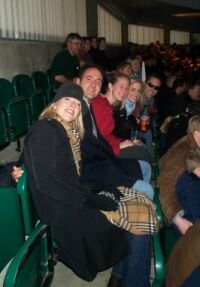 Must be in the front row!!! Remember guys, they were FREE TICKETS. Please note: Scott is not actually high-fiving ANYONE in either of these pics, wow!
Which one is Jason? He is SO cuuuuute!
Wait! We need to primp! That's better. Please note distressed Scott - no one to high-five on bus
RK in heaven
After a very tough afternoon keeping track of how many dozen tries England was scoring per minute, a traditional English meal - Tapas of course! Please note Scott claiming "I once high-fived a fish this big"! Chuck's not buying it