Pics from the UKTE and Friends Assault on Munich's Oktoberfest
26-30 September 2002
A group of 8 UKTEs and friends plus another bunch of folks from London made the required pilgrimage to Munich for Oktoberfest.
After months of, er, 'training', the team was ready to take on the world's finest in singing German songs we didn't know the words for and balancing on tiny benches while yelling the most important word in the German Language - "Prost!!!"
Day One in the 'Hippodrome' tent
JC chills with a Cohiba as Shelley & Lisa enjoy the Scots on the next table answer the question "So, what do have under that Kilt?"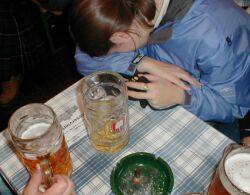 The Three Stages of Separation for Liz...
Day Two at (what was the name of that tent again?) with our local guide and frequent UKTE event attendee Klaus in full "Hosen". Rick tries to blend in with his own local attire while 4 ft in the air on a plank mit Mass (Big a__ beer). Cassie and new amigos dancing to yet another chorus of "Heeeeeey Baby". Everyone you see in the background is on their benches or tables.
Thanks to Jonathan C. for this first batch of pics, more coming soon!