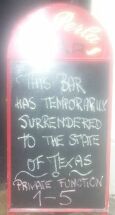 The 2nd Annual London Texas Independence Day Celebration
Sunday, March 2nd 2003, La Perla Restaurant, London
This SOLD OUT day of fun was co-sponsored by UKTE and the London A&M and Texas Tech Alumni Clubs
Click on any of the Pics below for the full-size versions
Texas was an independent Republic from 1836-1845, and our Independence Day – March 2nd – is a chance for EVERYONE to be a Texan for a day!
The Magic Sombrero had a variety of affects on those that put it on...to include the Miller's winning the Texas State Flag Raffle
Yes, Will we ALL love you! (o.k., he's FINALLY gone...now we can take the
pic we REALLY wanted)
The 'Ritas also had intriguing affects: Simon & Ingrid looking VERY smug about something ; Too much Lime in that last batch; Careful Anastasia, David may drool on you when he naps in a moment; Rick being Rick
Brummie 'Horns, Aggies, and Raiders, Oh My!!!
Hopalong Notaras enjoys his £100 shot of Tequila, before 45 minutes detailing the exact wording, font, color, and placement of his name listing on the Bar's walls and the getting the phone number of the 'La Perla Girl' in the painting
The merriment continues....
And there were six...the clean up crew circa 8p.m., hic
Brought to you by...Dave M. (TTech), Summer G.(A&M), Rick K.(UT) TexasTriviaMaster Marc D. (TTech), Door Bouncer Elizabeth D. (UT), The wonderful Gini from La Perla with George N.(ASU) of El Greco Media (many thanks for taking the majority of these pics , a new career in Wedding Photos perhaps?), Bringer-of-the-Prizes-from-the-States & Tequila Lover Aimee O. (Ole Miss & McSorley's U), and Like-My-Flag-Toga Rick yet AGAIN
THANKS TO EVERYONE FOR MAKING IT A GREAT DAY!