UK 'Horns & Friends Take in the Rugby 'Superbowl' - The Tetley's Bitter Cup
On Feb. 24th, 2001, 'The Crew of 22' journeyed to Twickenham - the English National Rugby Stadium - in West London to enjoy a crisp (and even sunny!) day of Championship Rugby Union.
Despite the Newcastle Falcons beating London Harlequins on a last minute try (after a VERY dodgey line-out call!!) a great time was had by all.
Pre-game Pub Warm Up Allie shows what she thinks of Geordie singing on the bus
In the Stands Chris pre-Falcons' Comeback The Houses' say Hook 'em Newcastle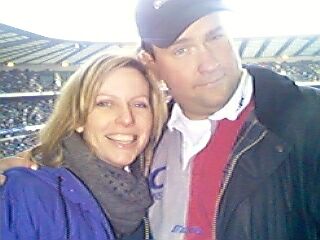 Where's the Jester Hat, Stu? Now you see her...
Post Game Wrap-Up Yes, its a BEER Brook!