'Horns Assault The NFL Europe Worldbowl 2003!
The Crew in The Stands, making new Friends, and with Ex Ray Woodard & Wife Penny
The Spring means it NFL EUROPE time, so 20 UKTE's and Friends made our 2nd Annual Roadtrip to Glasgow, this time to the WORLD BOWL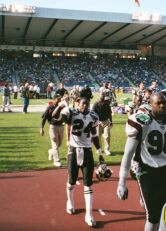 James Brown warms up before mowing down the Fire, Greg Brown Hooks 'em on the way in at Halftime,
and former 'Horns lineman and Ray Woodard joins us in the Stands
This year's World Bowl was a match up of former 'Horns football "Browns" - Former Texas QB James Brown's Frankfurt Galaxy whooped up on former 'Horns Safety Greg Brown's Rhine Fire. And in the stands with us...Former 'Horn Lineman, Denver Bronco & current Scottish Claymores Defensive coordinator Ray Woodard and family.
Click on the pics below for full size versions
Don't think the Europeans know how to throw a REAL football Party?
Pics from the Pre-game Parade in downtown Glasgow and the Tailgate Bash
The UKTEs were VERY low profile at the tailgate party (not), the Scotty McChmielewskis
enjoying the sun and the crew with some of the more interesting fans...
The Magees, Evanses, Rick & the soon-to-be Kanes, and "Super Scot" Adam & David in the Stands
What's NOT in these Pics:
The hootenanny at "Jumping Jacks" on Friday Night (too bizarre to explain) & about 10 of us crashing the official NFL Afterparty until 3:00a.m. Sat night - but it was better early on when it was 10-1 Cheerleaders-to-guys ratio before all those annoying players showed up
Carra pointing to those trouble makers NEXT to us that had at least one flask per couple (not us, no way),
The "Lardy Boys" in Action and Rick & Reagan get in close during the Galaxy's victory celebration
...AND some gratuitous shots of the Rhine & Claymores Cheerleaders, The Sugar Babes at Half Time and loads of women doing the Scottish Macarena