Texas Football Watching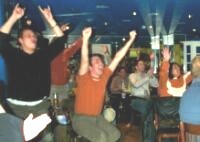 This is what it's all about! We screen every televised Longhorn game here in London.
Texas Vs Arkansas 2004
Texas Vs Texas A&M 2003

Texas Vs Oklahoma 2002

Texas Vs Texas A&M 2001

Texas Vs Oklahoma 2001

Texas Vs Texas A&M 2000
Flag Football
Every Saturday we are out in Hyde Park from about noonish, for a game of flag football followed by the all important post-game analysis at ESPN (Excellent Swan Pub Nearby). Very variable skills and athleticism on display, but it's always good fun.Here's the Map.
.
The Infamous UKTE Pub Crawl
Five years of drunken mayhem around London - The annual pub crawl has introduced us to some of the finest pubs in London whilst providing us with some fun times along the way. If you've heard the tales of Mr Punto, the Bon Jovi sing-along or the bus incident of 2004 you'll know that this is an event not to be missed.
Historic London Pubs 2005
Annual UKTE Softball Classic

The Annual UKTE Softball Classic takes place in late August. A very social relaxed day of hanging out in the park, slow-pitch co-ed softball and drinking.

If you are interested in playing or supporting baseball or softball in the UK, check out www.baseballsoftballuk.com
4th Annual UKTE Softball Classic, 2005
3rd Annual UKTE Softball Classic, 2004

2nd Annual UKTE Softball Classic, 2003

1st Annual UKTE Softball Classic, 2002
Halloween Party
Fast becoming everyone's favorite event of the year, the Halloween Party was a huge success again last year, with many people going to serious effort on their costumes.

And amid all the fun, we raised £345 for the UKTE Scholarship Fund
Halloween 2005
An American Thanksgiving in London, Sunday 27th Nov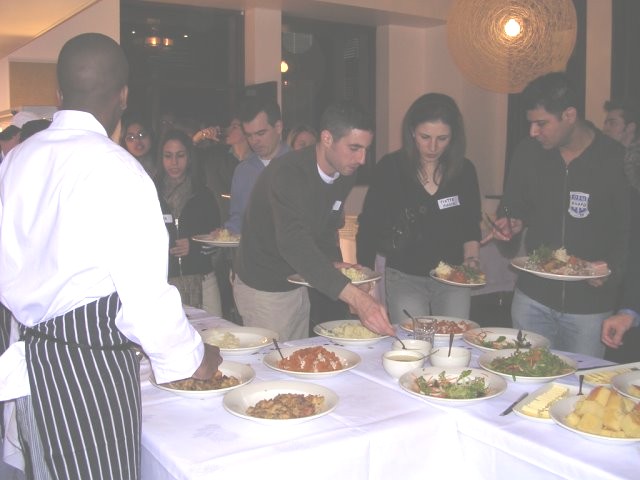 We co-hosted a huge 130 person dinner with a large number of other US University Alumni groups - A taste of home in a great family atmosphere.


Thanksgiving Dinner 2005